By Trevor Bruecher
During the University of Washington's winter break, Brother Jason Ngan (center-left) of UW Lambda Phi Epsilon traversed to Cusco, Peru with MEDLIFE, a non-profit organization whose goal is to alleviate poverty through the promotion of widespread, high-quality healthcare. With MEDLIFE's mobile clinic, Jason volunteered at rural areas around Cusco and provided medical, dental and educational assistance to low-income patients.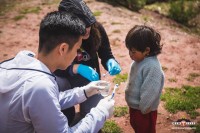 "The most memorable experience would probably be one of the days when I worked at the toothbrush station. Due to language barriers, it was difficult for me to communicate with the little kids, but through gestures, I was able to demonstrate how to properly brush their teeth," says Jason Ngan.
Cusco is a city located in southeastern Peru. It was the capital of the Incan Empire, and subsequently, is surrounded by rich culture and Incan historical sites, including Machu Picchu. The rural villages neighboring Cusco are impoverished and lack  hot water, clean tap water, heaters and other sanitary resources. MEDLIFE (which stands for Medicine, Education, and Development for Low-Income Families Everywhere) sets up mobile clinics there so that the local patients and families can access free medical care from volunteers such as Jason.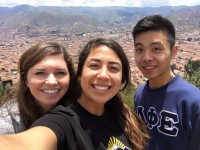 According to Jason, his favorite part of volunteering was that "Everyone was extremely friendly. They would actively interact with us even though they spoke minimal English. With the help of fellow volunteers who spoke Spanish, I was able to learn about their life and how they persevere through poverty."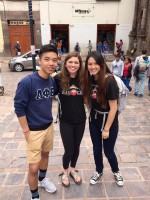 In retrospect, Jason was upbeat about his decision to volunteer in Peru over Winter Break "It was a life-changing experience for me and I would recommend that anyone interested in health-related fields should volunteer with MEDLIFE."
Through his philanthropy in Cusco, Brother Jason Ngan globalized Lambda Phi Epsilon's goal to improve its community and solidified himself as a "Leader Among Men."