Alumni Association
Nonprofit status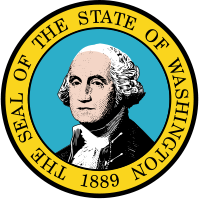 The Lambda Phi Epsilon Alumni Association is an international organization and network formed to promote and coordinate our fraternity's alumni activities and communications. The Association's duty is to continue to uphold the fine traditions and ideals of our brotherhood. They endeavor to assist and support both our members and our respective communities in whatever capacity deemed necessary or applicable. With each new infusion of graduating brothers into our network, the fraternity becomes larger and stronger. The University of Washington Lambda Phi Epsilon Alumni Association is the only Asian American interest fraternity established as a nonprofit corporation within the State of Washington. The Alumni Association rewards scholarships to undergraduate members who epitomize the ideals of Lambda Phi Epsilon. The Foundation also plays a role in organizing professional development workshops to connect active undergraduates with distinguished alumni in their industry of choice.
Professional connections
As the largest Asian interest fraternity in the world, the brothers of Lambda Phi Epsilon are granted unique opportunities during both their college years and in their future career endeavors. It has become a professionally structured and highly regarded networking channel. Productive young leaders and entrepreneurs of this generation are groomed from the fraternity's programs, cultivating a perpetually strong alumni base. The close attention to its members makes Lambda Phi Epsilon the fastest rising influence in the Asian community. Consequently, Lambda Phi Epsilon has become one of the most sought after organizations due to growing demand for fraternal Asian representation on university campuses. As the fraternity continues to grow, it has made a commitment to maintain its integrity and standards that have come to be recognized worldwide.
The commitment of the brothers to the fraternity does not end with undergraduate study, but instead carries on for the rest of their lives. Its network reaches far and wide, with alumni populating cities all across the country, and even internationally, with alumni programs formed in regions of China, Korea, and Europe. Every major region or city features an alumni chapter whose membership is open to any brothers residing in the area, regardless of the chapter they originated. The growth, success, and stability of the fraternity's college chapters has largely been due to the outstanding support of its alumni members. A tremendous wealth of knowledge and experience is offered to younger members in the form of mentorship opportunities, chapter advising, and interaction at fraternity events. Especially in terms of career building, the fraternity's resources are powerful and vast. Lambda Phi Epsilon's leaders have always aspired to greater endeavors upon graduation, and the organization has harbored countless brothers who stand as leaders in their respective industries. The opportunities for networking here are limitless, as you can be sure to find a Lambda nearly anywhere you go.
Contribute today
There are several ways you can enrich the educational experience for members of Alpha Zeta Chapter. All donations are tax deductible.
Donate Online: You can donate money through Alpha Zeta Chapter's Venmo account. Please specify how you would like to see your donation used (e.g., towards a chapter scholarship, house funds, philanthropic programming) and follow up with our chapter treasurer for a receipt of your donation. For a summary of donations from the previous fiscal year, please view the chapter's "2014 Year in Review" page.
Cash or Check: This is our preferred method for making a donation. Please mail your donation payable to UW Lambda Phi Epsilon Alumni Association at 7938 5th Ave SW, Seattle, WA 98106, ATTN: Mr. Jeffrey Wang, Foundation President.
Corporate Matching Gifts: If your company has a charitable matching gift program, donations are an easy way to increase the impact of your personal contribution.
Beyond college
After graduating from the University of Washington, brothers have gone on to successful careers at numerous Fortune 500 companies; many others advance to high standings in the government, military, and nonprofit sectors. Our alumni have also gone on to graduate school to become doctors, engineers, lawyers, researchers, teachers, and administrators. Through professionalism and allegiance, brothers serve as mentors to those that come after them. The opportunities as a brother at the University of Washington are infinite. This continuous record of achievement is a testament to the hard work and dedication put forth from the brothers of Alpha Zeta Chapter, whose flame of civic and fraternal pride remain ignited even after the undergraduate years. It is no surprise that Lambdas are at the forefront of such organizations listed below, which display just a mere fraction of both the local and national connections you'll have access to as a brother. The respective industries of actives and alumni employed from Alpha Zeta Chapter alone are in bold.
Lambda Lil Sis
A unique family support system
The Lambda Phi Epsilon Little Sister Program was created to become an extension of the Lambda Family ideal. This program offers young women the chance to experience and be apart of the Greek system without having to hold commitments on their part such as with pledging a sorority. The Lambda Lil Sis Program strives to create and strengthen bonds between women from all corners of campus and the Brothers of Lambda Phi Epsilon.
Lambda Lil Sis are always welcomed to our social and philanthropic events, as well as to exclusive nationwide networking events such as Convention. Our Little Sister Program grants invited women an opportunity to  build and maintain meaningful relationships lasting throughout and after college with our active brothers, alumni, and other Lambda Lil Sis. The fraternity strives to function as a family for support and an alternative social group for its members. For those who may have never had a sister or a brother, this program was developed to help build those bonds of trust and family.
The founding mothers of αΚΔΦ at the University of California-Berkeley (1990) were Lambda Lil Sis prior to chartering our sister organization. Our Alpha Class of Lambda Lil Sis established ΧΣΑ at the University of Washington (2002).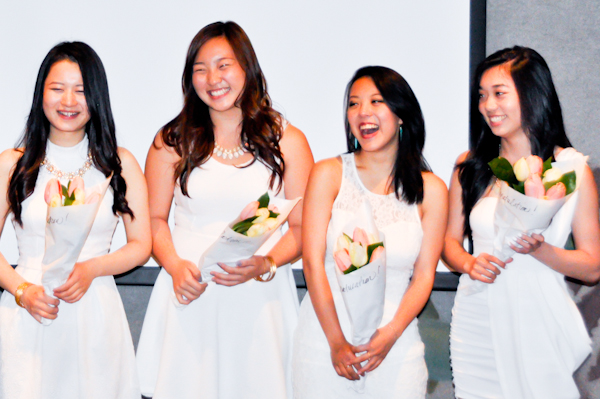 Nickname: Theta Eclipse (Spring 2014)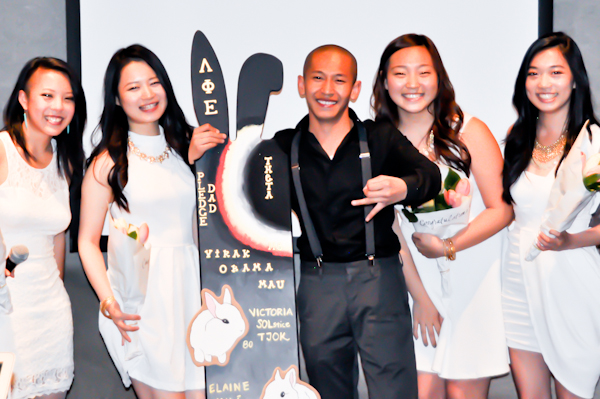 Pledge Dad: Mr. Virak Mau
Lil Sis
Alias
Office
Big Bro
Ms. Victoria Tjok
#80 "SOLstice"
Treasurer and Secretary
Mr. Arrunn Chhouy
Ms. Elaine Xie
#81 "Kala"
Fundraising Chair
Mr. Kenton Nakamura
Ms. Cheryl Wang
#82 "Deck of Cards (D.O.C.)"
Captain and Step Master
Mr. Daniel Nguyen
Ms. Annmarie Yi
#83 "Kim Possible"
Sisterhood Chair and Historian
Mr. Andrew Kim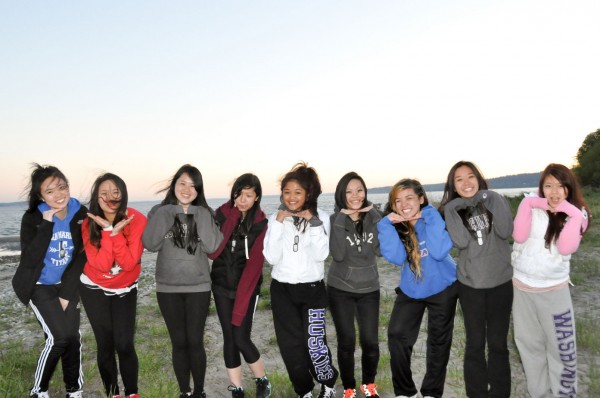 Nickname:
Eclectic Etas (Spring 2013)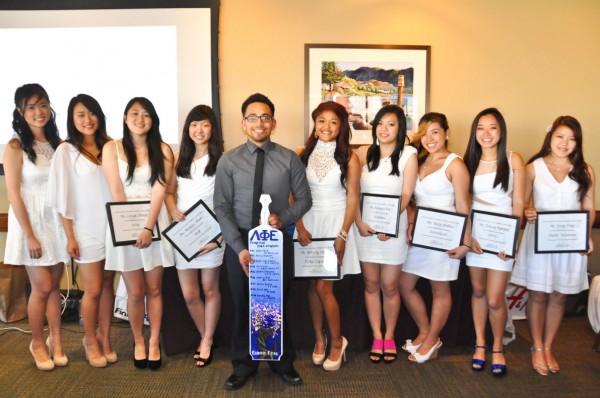 Pledge Dad:
Mr. Frank Cifuentes
Lil Sis
Alias
Office
Big Bro
Ms. Inny Teng
#71 "Too Pocky AF"
Parliamentarian
Mr. Alexander Farmer
Ms. Felicia Nguyen
#72 "LV"
Service Chair
Mr. Andrew Yeh
Ms. Riele-Jane Robles
#73 "Kill Switch"
Sisterhood Chair
Mr. Marc Rosete
Ms. Rebecca Wu
#74 "A$AP Pocky AF"
Academic Chair
Mr. Alexander Farmer
Ms. Beverly Dosono
#75 "Little Cobra
Captain
Mr. Marc Rosete
Ms. Monica Tran
#76 "Bell-Awesome"
Historian
Mr. Gary Ho
Ms. Lorain Zhang
#77 "S.S. Sazz"
Social Chair
Mr. Josh Chen
Ms. Grace Choi
#78 "PradaG"
Alumni Chair
Mr. Don Nguyen
Ms. Wendy Hui
#79 "Pluto"
Secretary
Mr. Virak Mau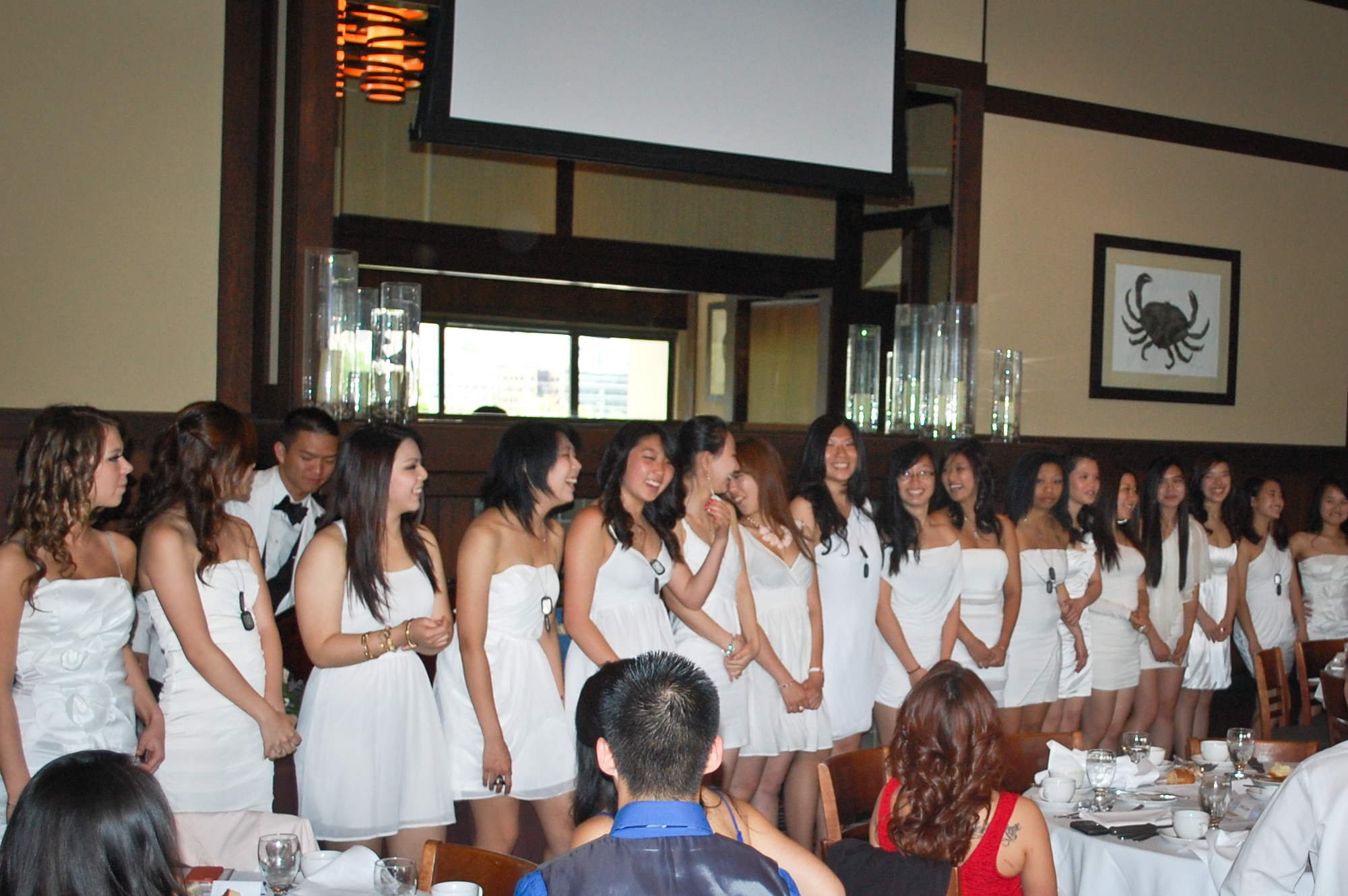 Nickname:
Zippy Zetas (Spring 2012)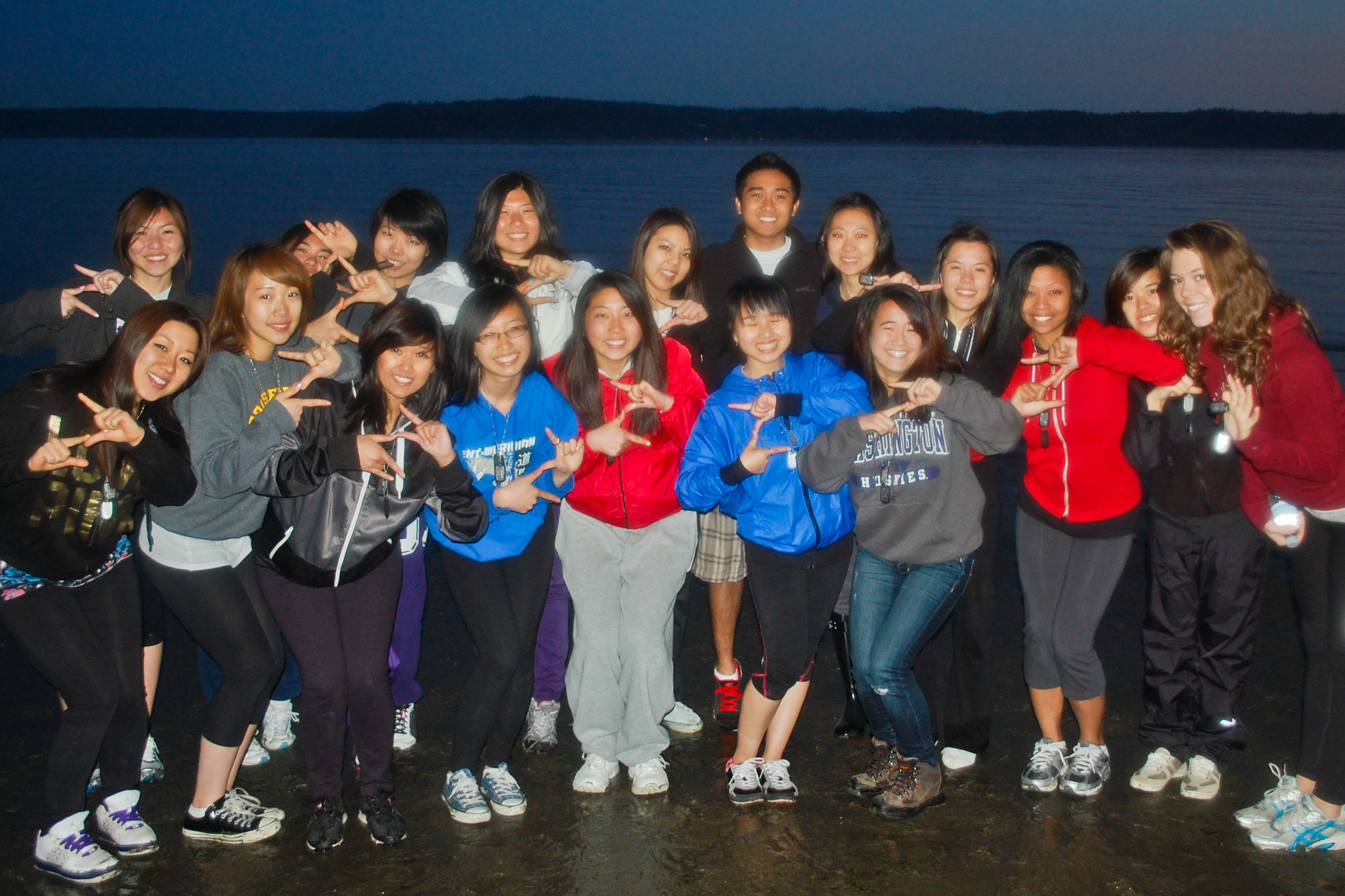 Pledge Dad:
Mr. Bryan Dosono
Lil Sis
Alias
Office
Big Bro
Ms. Teos Bisbee
#55 "Firefly"
Service Chair
Mr. Frankie Acfalle
Ms. Sarah Carter
#70 "Yuffie"
Alumni Chair
Mr. Michael Mazique
Ms. Michelle Chen
#69 "Pawsies"
Secretary
Mr. Wilson Lu
Ms. Nayeon Choi
#58 "Boo"
Sisterhood Chair
Mr. Russell Vong
Ms. Amy Chung
#59 "Lotus"
Academics Chair
Mr. Phillip Ho
Ms. Rena Feng
#62 "Feather"
Captain
Mr. Frankie Acfalle
Ms. Aileen Huang
#56 "Nova"
Co-Captain
Mr. Jonathan Bui
Ms. Aileen Kim
#67 "Ariel"
Webmaster
Mr. Russell Vong
Ms. Christina Kim
#66 "Choco Pie"
Step Chair
Mr. Sundona Kittikhoun
Mr. Wyndi Ma
#64 "Starfire"
Formals Chair
Mr. Ryuji Maung
Ms. Luxi Meng
#65 "Solaris
Treasurer
Mr. Jonathan Bui
Ms. Thu Ngo
#54 "Yolklet"
Public Relations
Mr. Marc Rosete
Ms. Jennifer Nguyen
#61 "Phoenix"
Historian
Mr. Ryuji Maung
Ms. Mai Roach
#60 "Mai Tai"
Social Chair
Mr. Carsen Chu
Ms. Nina Siribodhi
#68 "Thai1"
Fundraising Chair
Mr. Michael Chen
Ms. Sunny Wan
#63 "Rainie"
Culture Chair
Mr. Michael Chen
Ms. Lirra Zullo
#57 "Dancelet"
Parliamentarian
Mr. Marc Rosete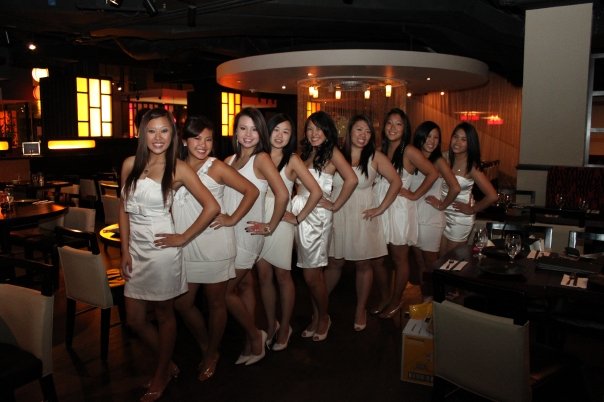 Nickname:
Exquisite Epsilons (Spring 2009)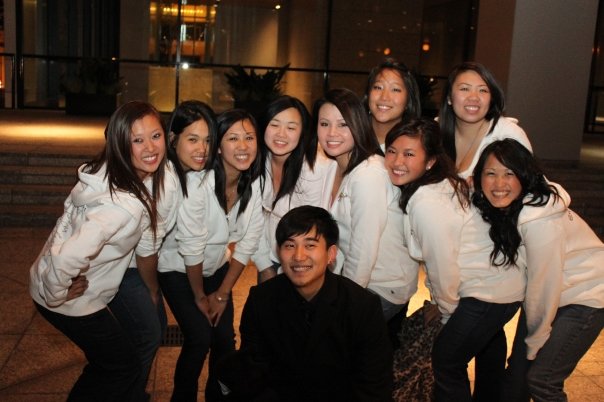 Pledge Dad:
Mr. Joseph Lim
Lil Sis
Big Bro
Ms. Lynna Duong
Mr. David Fu
Ms. Cassandra
Mr. Roger Chao
Ms. Trang Ha
Mr. Vethyea Loch
Ms. Angela Han
Mr. Christopher Luong
Ms. Quy Nguyen
Mr. Peter Ly
Ms. Tiffany Ng
Mr. Steven Chong
Ms. Jessica Tran
Mr. Tianyin
Ms. Taylor'an Trang Truong
Mr. Richard Park
Ms. Jenny Yang
Mr. Hengxin "Cole" Fun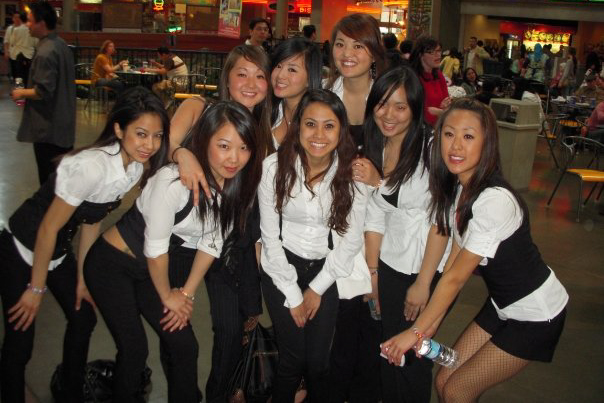 Nickname:
Delta Dimes (Spring 2008)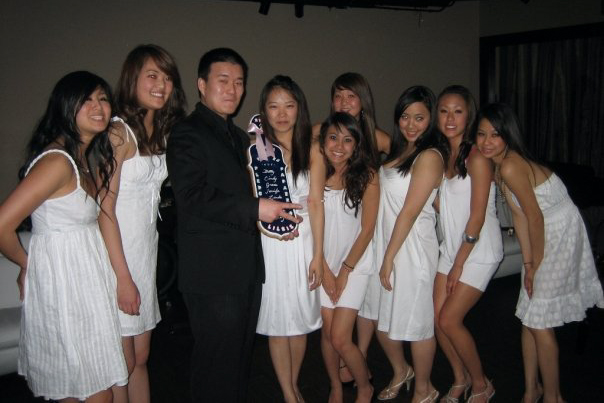 Pledge Dad:
Mr. Bruce Chung
Lil Sis
Big Bro
Ms. Queena Chang
Mr. Andy Chao
Ms. Cindy Kim
Mr. Roger Chao
Ms. Grace Lee
Mr. David Noh
Ms. Linda Nguyen
Mr. Denny Pham
Ms. Jennifer Phan
Mr. Howard Kim
Ms. Vicky Tran
Mr. Charles Chang
Ms. Lindsay Villagracia
Mr. Daniel Won
Ms. Betty Yan
Mr. Joseph Lim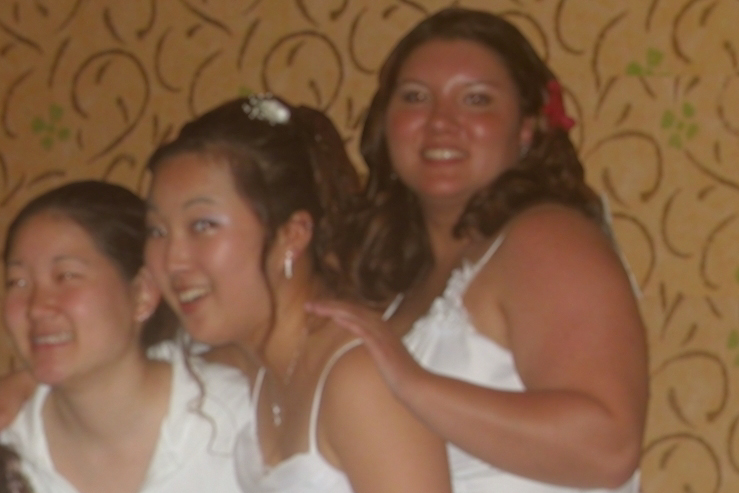 Nickname:
Graceful Gammas (Fall 2003)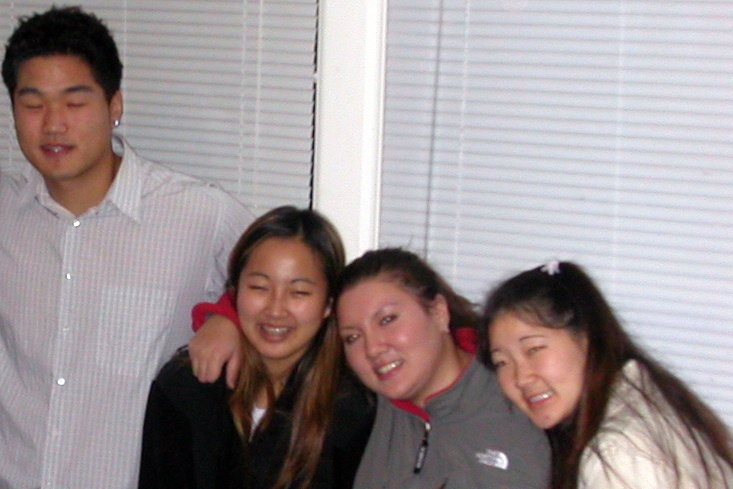 Pledge Dad:
Mr. Thomas Tae Kyung Kim
Lil Sis
Alias
Big Bro
Ms. Okgil Kim
"Sunny-Side Up"
Mr. John Chae
Ms. Jennifer Thayer
"Bounce"
Mr. Nephi Cheng
Ms. Karynne Tsuruda
"Snuggles"
Mr. Shane Kimura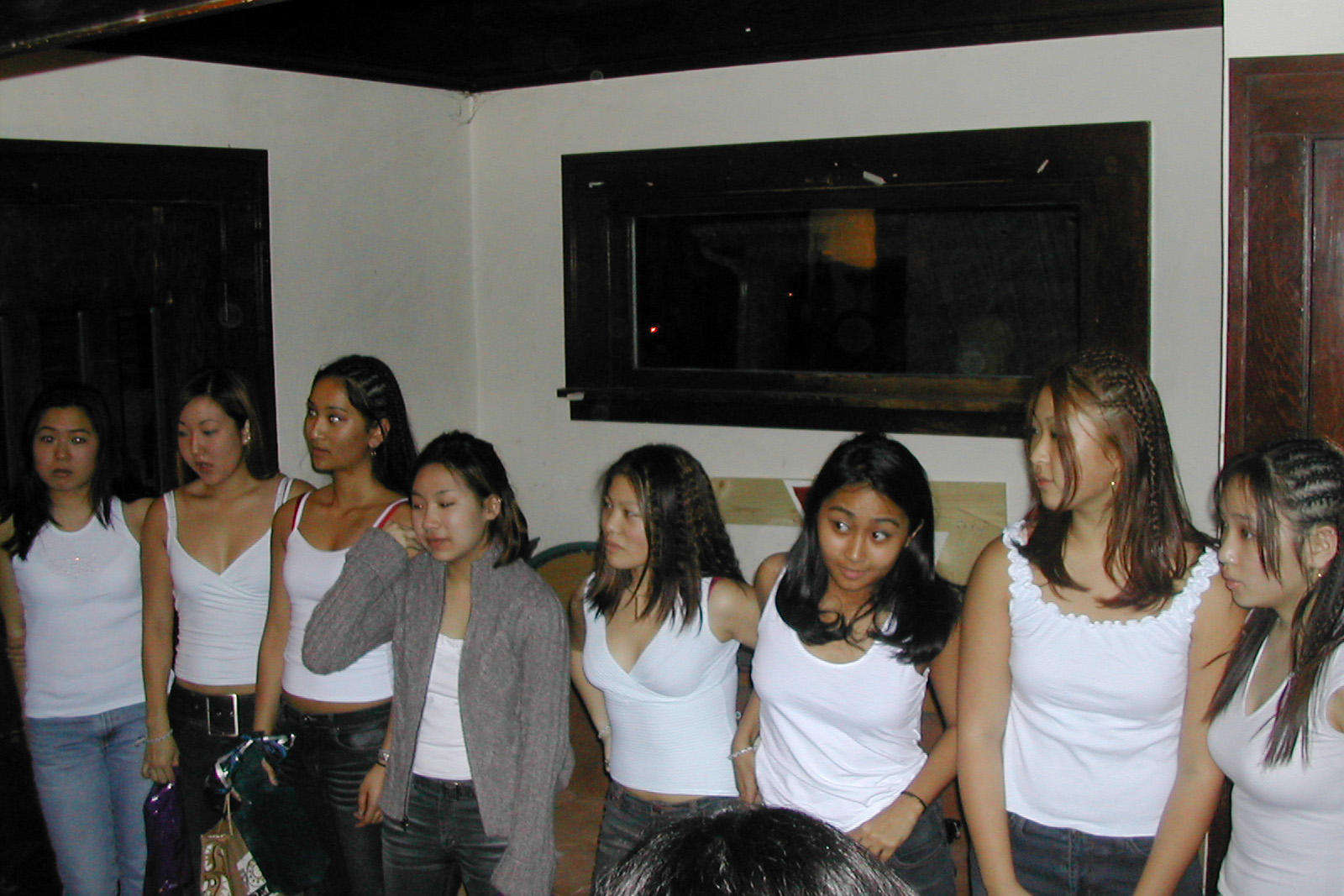 Nickname:
Beta Brats (Winter 2003)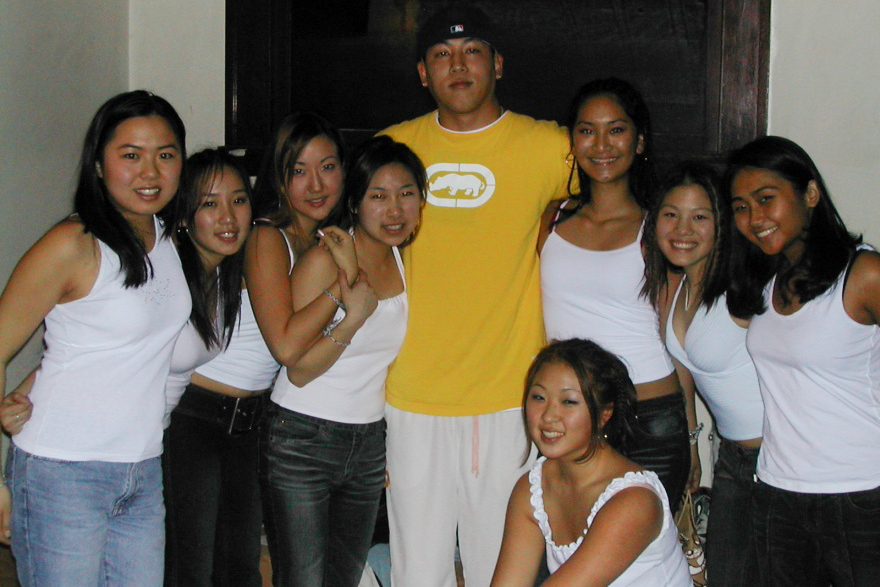 Pledge Dad:
Mr. Si "Xuan" Duong
Lil Sis
Alias
Big Bro
Ms. Erin Aquino
Lilo
Mr. Eddie Liu
Ms. Jane Hong
TKNY
Mr. Thomas Kim
Ms. Esther Kim
Bubbles
Mr. Ta-Wei Wang
Ms. Janine Jung
Tweety
Mr. Jeff Wang
Ms. Unie Kim
Unie Phi
Mr. Gene Chen
Ms. Trang Pham
Buttercup
Mr. Jeff Chang
Ms. Emily Rao
Xiao Ben Dhan
Mr. Jacob Duh
Ms. Maria Santos
Taz
Mr. Nephi Cheng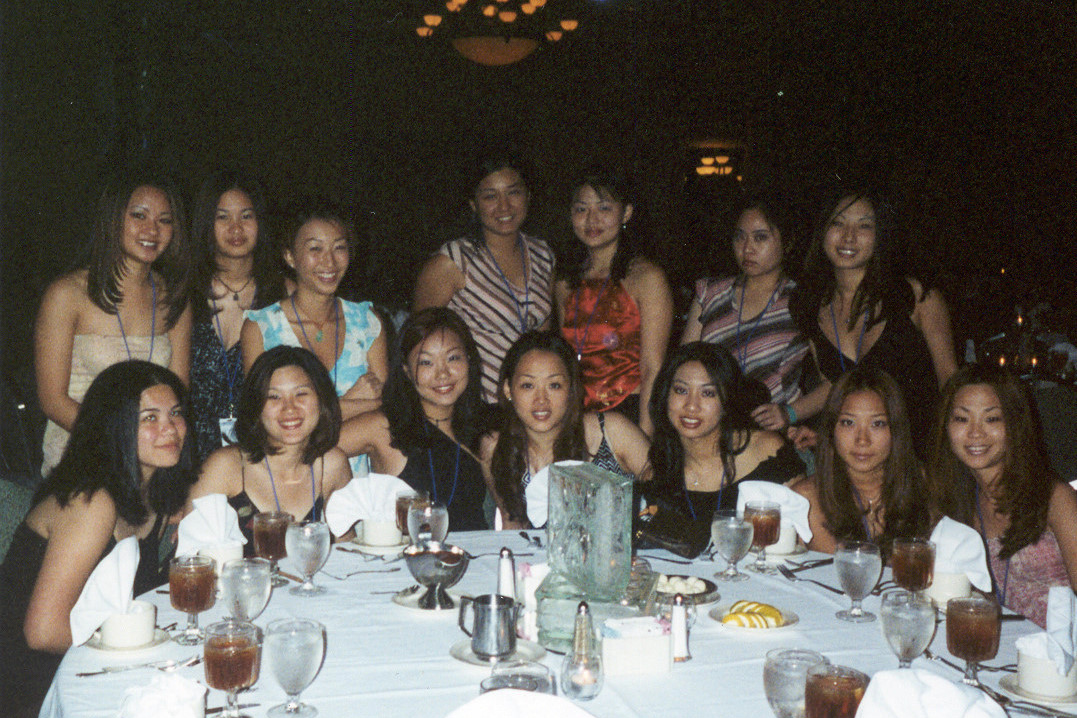 Nickname:
Alpha Angels (Fall 2002)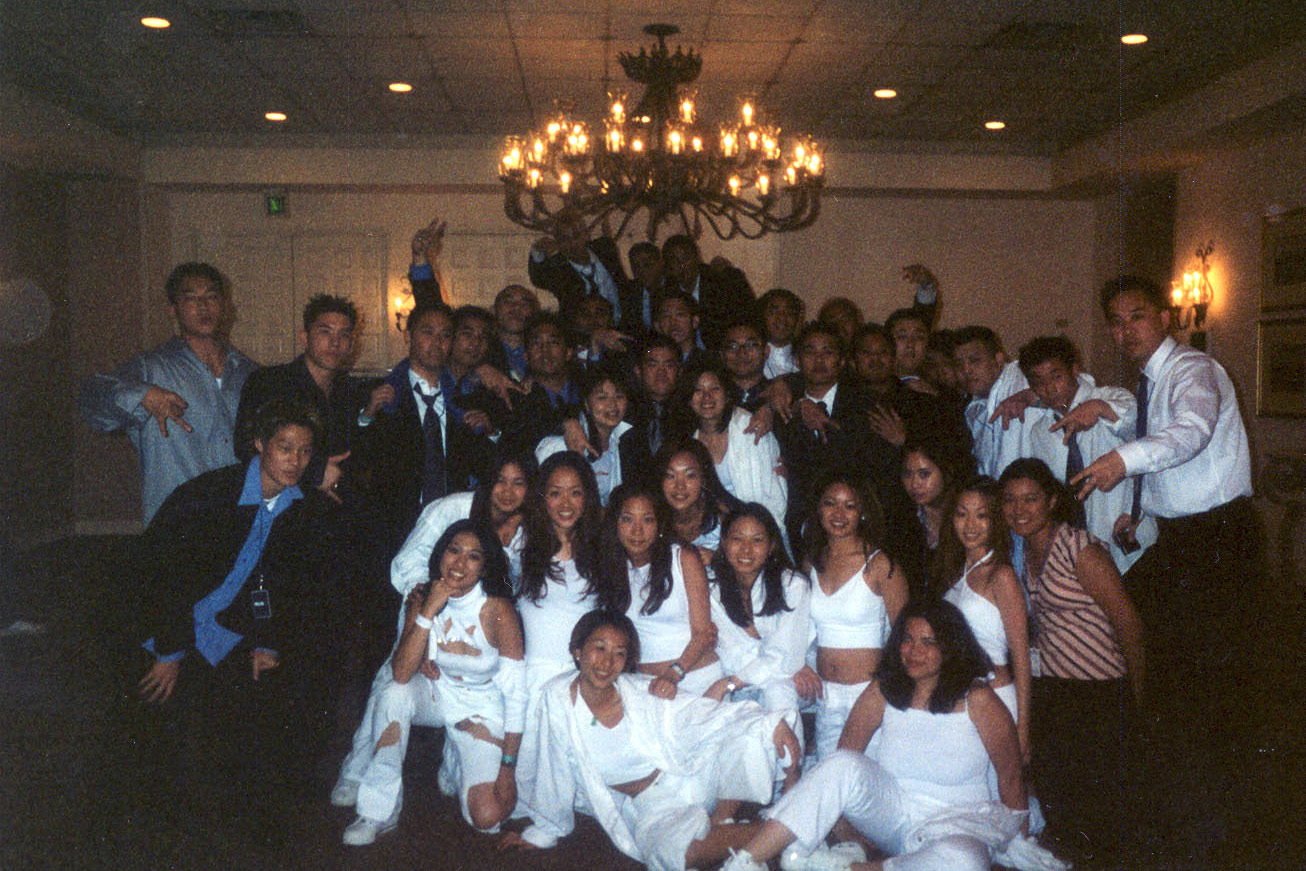 Pledge Dad:
Mr. John Chae
Lil Sis
Alias
Big Bro
Ms. Carolynn Beck
Snickerdoodle
Mr. Mike Lieu
Ms. Jean Chau
Jigglypuff
Mr. Billy Chow
Ms. Tina Chau
Chanel No. 5
Mr. Thomas Kim
Ms. Kim Chi
Hunny Bunny
Mr. Edwin Ibanez
Ms. Erica Choe
Pickie Bickie
Mr. Samuel Yoon
Ms. So Ra Choe
Insomnia
Mr. Kyu Jin Hwang
Ms. Shara Choi
Tickle Monster
Mr. Patrick Patulot
Ms. Kaeun Chong
Sweet Sensation
Mr. Stewart Tong
Ms. Tina Chung
Tolerance
Mr. Kyu Jin Hwang
Ms. Nicole Cukingnan
Jubilee
Mr. Frederick DeLara
Ms. Trinh Duong
Smurfette
Mr. Steve Lieu
Ms. Judy Fong
Xena
Mr. Johnny Xu
Ms. Jennie Freitas
Skittles
Mr. Stewart Tong
Ms. April Gingerich
Pebbles
Mr. Sam Tang
Ms. Jina Hong
Snuggles
Mr. Steve Lieu
Ms. Vivian Hua
Dot
Mr. Andrew Jiang
Ms. Lisa Hwang
666
Mr. Hyun Sung Chung
Ms. Susan Kang
Mochi
Mr. Kawika Stevens
Ms. Anna Kim
Energizer
Mr. Steven Geonanga
Ms. Grace Kim
Tweety
Mr. Brad Watanabe
Ms. Jacqueline Kim
Silent Night
Mr. Jerry Tsai
Ms. Lammy Kim
Lambchop
Mr. Patrick Patulot
Ms. Anna Lee
Tootsie Roll
Mr. Andrew Jiang
Ms. Eva Leong
Piglet
Mr. Sokkuna Sam
Ms. Mai Nguyen
Mai Tai
Mr. Travis Kubota
Ms. Lyna Phan
Mulan
Mr. Bien Do
Ms. Shirly Pho
Mushu
Mr. Bien Do
Ms. Elizabeth Shaiken
Strawberry Shortcake
Mr. Maui Chhom
Ms. Kathy Wen
Tinkerbell
Mr. Jewelson Acuario
Sponsors
Support a winning fraternity
Thank you for your interest in partnering with Lambda Phi Epsilon, the oldest and largest Asian American interest fraternity established at the University of Washington. Recognized for the quality of our philanthropic service events and nationwide leadership conventions, our chapter can serve as a valuable liaison between your company and the students of University of Washington. We can help your company strengthen its presence at this university and assist in effectively finding a concentration of the most qualified candidates for employment. Our relationship with sponsors can begin with something as simple as prominently displaying your company link and logo on our website and t-shirts. We can even go as far as featuring your company in our recruitment sessions and co-hosting our quarterly venue parties that reach out to over thousands of students at Seattle. With our experience in a wide range of campus events, we can help you reach out to students through any method of your choice. To find out more information on forging a partnership with our chapter, please feel free to contact us at info@uwlambdas.com. Become a sponsor of Lambda Phi Epsilon, today!